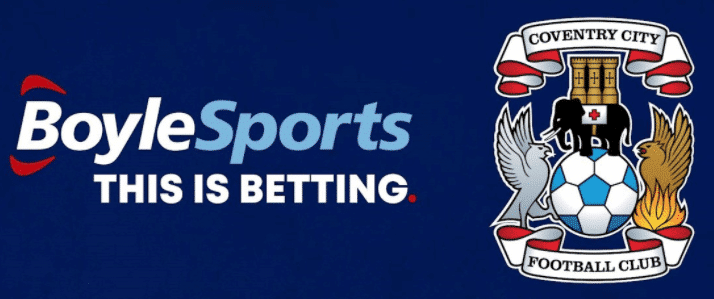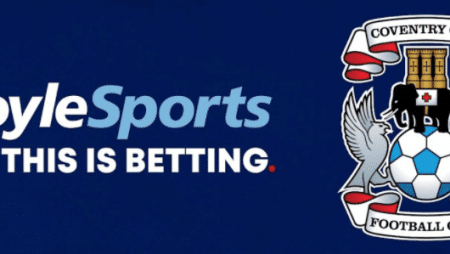 The largest Ireland's bookmaker BoyleSports and new Championship contender Coventry City FC signed a sponsorship deal for 2020/21 season.
Boylesports has been named as principal partner to Coventry FC and in line with the deal, Boylesports logo will be added to Coventry City shirts for the next season.
Dave Boddy, Coventry City's Chief Executive said:
"We're very pleased to welcome BoyleSports to Coventry City as our new shirt sponsor and principal club partner.
This is a significant deal for our Football Club and will provide much needed and significant revenue for the Club, helping to support Mark Robins and the team in preparation for the upcoming Championship season.
BoyleSports have already shown great enthusiasm about their new sponsorship and supporting the Sky Blues, and we look forward to working with them".
Boddy then added:
"In line with EFL guidance, the Club and BoyleSports will work closely to ensure that the promotion of any gambling products is conducted responsibly and in line with all appropriate licensing and regulatory guidelines".
Conor Gray, CEO for BoyleSports, has welcomed the new deal. He said:
"Having chosen the Midlands to be the base for our expansion into Britain, we are proud to cement our commitment to both Coventry and to the wider Midlands area with this deal.
We see exciting times ahead for BoyleSports in the Midlands, and with their recent promotion to the Championship, we wish Coventry City FC all the very best in their upcoming season".
BoyleSports has invested significantly in all of its new Midlands outlets, completely renovating each shop to bring the same quality of service and shops that BoyleSports' Irish retail customers have enjoyed for years.
The bookmaker owns 19 shops across the Midlands at the moment with 4 of them located at Coventry – Holbrook Lane, Stoney Stanton Road, Foleshill Road and Cross Cheaping.
Boylesports is offering a welcome bonus for new online customers, find out more details about BoyleSports free bet.