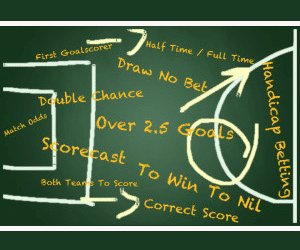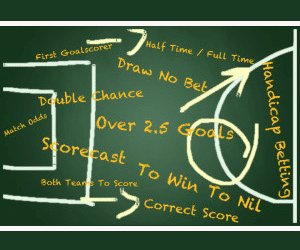 Football Bet Types Explained
Ever wondered what does it mean, phrases like Double Chance or Asian Handicap?
Browse through our short guide on the most common bet types and in addition, explanation on different Odds Formats.
Win – Draw – Win
This is exactly what you would expect it to be. You place a bet on a team either winning, losing or drawing a game. If your selection comes in correct, you win the bet.
Selecting the strongest team will obviously yield the best results but make sure the odds are long enough to make the risk worthwhile.
Half Time
In the "half time" market punters try to predict whether a team will be winning, losing or drawing at half time.
You can bet on number of goals in 1st or 2nd half, result of 1st half only and so on.
Double Chance
The "Double Chance" market (sometimes referred to as x2, to differentiate it from the standard win/draw/win market — 1x) allows you to pick two possible results to a game e.g Manchester United to win or draw.
This market is particularly handy when you're not 100% confident in your bet.
Handicap Betting
Handicap betting allows you to give a team a head start in regards to your bet.
You will usually have the option of +1, +2, +3 and so on.
These figures represent a goal, so if you select +2 for Stoke City then the game essentially starts at 2-0 for Stoke.
This market is usually used to fine tune a bet, getting the odds you want for a particular result — normally on the favourite.
Asian Handicap
Asian Handicaps are very similar to standard Handicaps, however they have the added bonus of removing one of the outcomes. Think of Asian Handicaps as a cross between a "standard handicap" and a "double chance".
Half Time / Full Time
Half time / Full time (also referred as HT/FT) betting allows you to pick the winner of the first half and the game as a whole.
So if you think Liverpool will be ahead at halftime but feel the game will end in a draw you would pick "Liverpool/Draw".
This market is usually used to gain greater odds on an almost certain bet or to take advantage of a teams knack for grabbing early goals.
Under 2.5 / Over 2.5
The under and over market revolves around how many goals there will be in a game. If there are 3 or more goals then over 2.5 wins, if not under 2.5 wins.
This market runs from under/over 2.5 all the way up to 4.5 on almost every bookie you will encounter, making it viable in almost every match.
The best use of this market is when you're sure there will be goals but aren't sure how many.
Lesser divisions tend to do well in this markets as the standard of defenders and goalkeepers is drastically lower, driving the average number of goals per game up.
Correct Score
This one is exactly what you would expect it to be. Guess the correct score of a match (e.g 3- 0 to England) and you win the bet.
The odds are usually very good in this market but no matter how much research you do, success will largely be based on luck.
Football Betting Odds Formats Explained
There are three primary odds formats; Decimal, traditional (also known as fractional) and "American". Lets jump straight in.
Decimal Odds
Decimal odds are usually found at bookies throughout mainland Europe but all UK bookmakers serve this format as well.
The system itself is extremely easy to get to grips with. If we have odds of 7.75 on Wolves to beat Manchester United and place a £10 stake then all we need to do is multiply £10.00 x 7.75 and we have our winnings of £77.50.
Multiples are exactly the same, we just need to factor in two bets and the bonus we get to the odds due to the added risk of one of the two bets not coming in.
If we have England to beat San Marino at 1.82 and Japan to beat France at 5.28, we can set them as a double which (with a little behind the scenes calculating from your bookie) gives us odds of 9.62. If we place a £20 stake on this bet we would win £20.00 x 9.62 = £192.40.
Fractional Odds
Fractional odds are almost exclusively used by UK based bookmakers.
Mathematically they are the most logical of all the formats due to the fact that probability can be converted into a fraction with a relatively simple formula.
Regardless, the easiest way to understand the fractional system is to focus on the fractions — no maths at all.
If you are getting odds of 7/2 on England winning a football match then you will stand to gain £7 for every £2 you stake. So if you stake £2 you will win £7, if you stake £4 you will win £14.
Again, multiples are relatively simple but the odds you will end up with will vary wildly from bookie to bookie as they will all calculate the risk factor of each individual bet differently.
If you have England to win that fictional football match at 7/2 and Scotland to win at 3/1 and you place them as a double the formula for your bet would be £10 × (7/2 + 1) × (3/1 + 1) = £180, offering odds of 18/1.
American Odds
These are probably the most complex of the formats, unless of course you grew up using the system.
The American format displays their odds with a reference to 100 units at all times. The odds are offered with a multiple of 100 such as +800.
If there is a + before the figure then that is what you would win if you placed a $/£/€100 bet, whereas a "-" suggests that you have to place a one hundred unit stake just to achieve the figure following it. So if we placed £10 at +800 (which is 9.00 or 8/1 in the previous formats) then we would stand to win £80.
Americans also use the term "parlay" instead of "multiple" or "accumulator" but they're exactly the same thing.
While odds will vary, if we use a flat 4/1 chance of a double coming in (true odds for two 50/50 encounters) then you would have odds of +400, placing a £10 bet would net you a solid £40 — £30 of which is pure profit!
Odds Formats FAQ
What are Betting Odds Formats?
There are three primary odds formats; Decimal, Fractional and "American". Each format represents different value system, depends on the country and continent. Europeans use Decimal odds, UK Fractional odds while Americans have their own system, called American Odds.
What are the most common bet types?
The most common bet types are; Win-Draw-Win, Over/Under goals, half time, handicap, double chance, correct score and so on. A variety of other bet types are offered to; number of yellow cards, penalty yes or no, number of corners, goalscorers, corners etc.