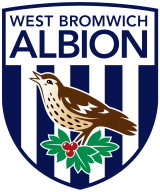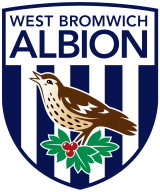 West Bromwich Albion F.C. Nickname History
WBA football club was formed in 1878 by bunch of workers in the "Salters Spring Worship".
First recorded WBA FC nickname is The Throstles. The Throstles dates back to 1900, when the club started to play at the Hawthorns stadium, and many birds of the type were seen around the stadium.
Some birds lived in the tunnel of the stadium as well. As said, during the early days, WBA fans were known as "The Throstles".
Today, West Bromwich Albion FC fans proudly call themselves "The Baggies". An origin of the nickname is causing a lot of debate, because there are several stories of how the West Bromwich Albion got this nickname.
There is an interesting story behind The Baggies nick;
Hawthorns stadium had only two entries, one from behind each goal.
On the day of the match, cashiers collected money at both ends and were escorted by police officers to bring the money to a small office in the middle of the field.
The money collected from tickets was mostly pennies – it was a considerable amount and it used to be worn in large linen bags.
So once the money collectors appeared in front of the main stand to surrender the bags full of pennies, the crowd would start cheering "Her Comes the Bags".
As time passed, the fans started to use new nickname for the club – The Baggies.
The other story is that the name was given to the Albion supporters by their rivals Aston Villa, simply because of the large baggy trousers that many Albion fans wore at work to protect themselves from molten iron and intense heat in the factories and foundries of the Black Country.
Many of them were going straight to the stadium from work in those clothes, so it might be a reason for "The Baggies" nick.
Both versions carry some weight and are closely related to the origin of the WBA's nickname as we know it today.
---
VIDEO: History of West Bromwich Albion Football Kit (3:02 Minutes)
West Bromwich Albion has appointed LVBET as the official betting partner for season 21/22.