QuinnBet Quarterback – Get 25% money back of your weekly losses
Quinnbet offers one of the best Money Back offers to active customers on a weekly basis.
Quinnbet Quarterback is a mixed breed between Free Bet Club and Money Back, so you can get the best from both worlds.
If you bet regularly, you can get up to 25% back of your weekly losses as a free bet up to £50.
However, to get the Money back, your Quinnbet sportsbook account should be overall negative.
Register now or continue reading.
How does Quinnbet Quarterback work?
If at the end of the week your account has losses overall, you will get 25% back of your weekly losses as a free bet on Monday.
There are few conditions to be meet prior to being able to claim Quinnbet's Quarterback offer:
You get a free bet of up to £50 provided at least half of your qualifying stakes are on markets other than Horse Racing.
If Horse Racing comprises more than 50% of your weekly stakes, you can still get a free bet of up to £25!
You need to place a minimum of 5 bets during the week on different selections to qualify. There are no minimum odds requirements.
A week starts at 00.01 on Monday and finishes at 23:59 on Sunday.
At least 4 of your qualifying bets must be 50% in value of the largest bet you place during the week.
Example: if your largest bet during the week is £10 you need to have 4 additional bets of no less than £5 each.
Overall Sportsbook losses to date are calculated from when your account is first opened and arise when your account has losses which exceed wins across QuinnBet events.
Weekly Sportsbook losses arise when your account has weekly losses which exceed weekly wins across QuinnBet events in a given week.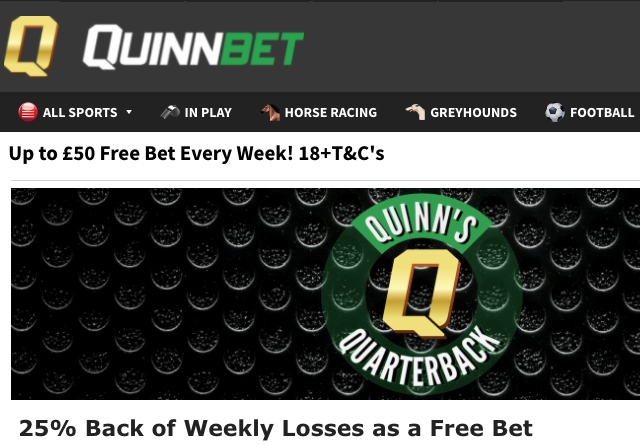 Quinnbet offers quite a few promotions, like No Goal No Worries or Quinnbet Sign Up Offer
Full Terms & Conditions apply, 18+.